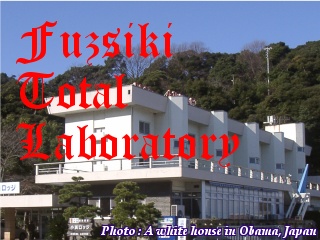 Sorry, still Under Construction.
But, now the Fujiki Total Laboratory announce the opening of a content.
OTERA Maniac is here!
If you can read Japanese, click here ( Japanese Version )
News Headline: Obama won the race 2008
As Barack Obama has become the President of the States,
many people in Obama city celebrate the historical victory,
but they don't know why nor how.


Legal Notes.
All the copyright of this site belong to me, FUJIKI Gerusi.
This site contains no clear and present danger,
no adult materials, no drugs, and no truth!!
Please don't believe in the contents ( except for the Legal Notes ).




Any comments? Please send e-mail to the address below.

e-gerusi@fuzsiki.com( FUJIKI Gerusi )